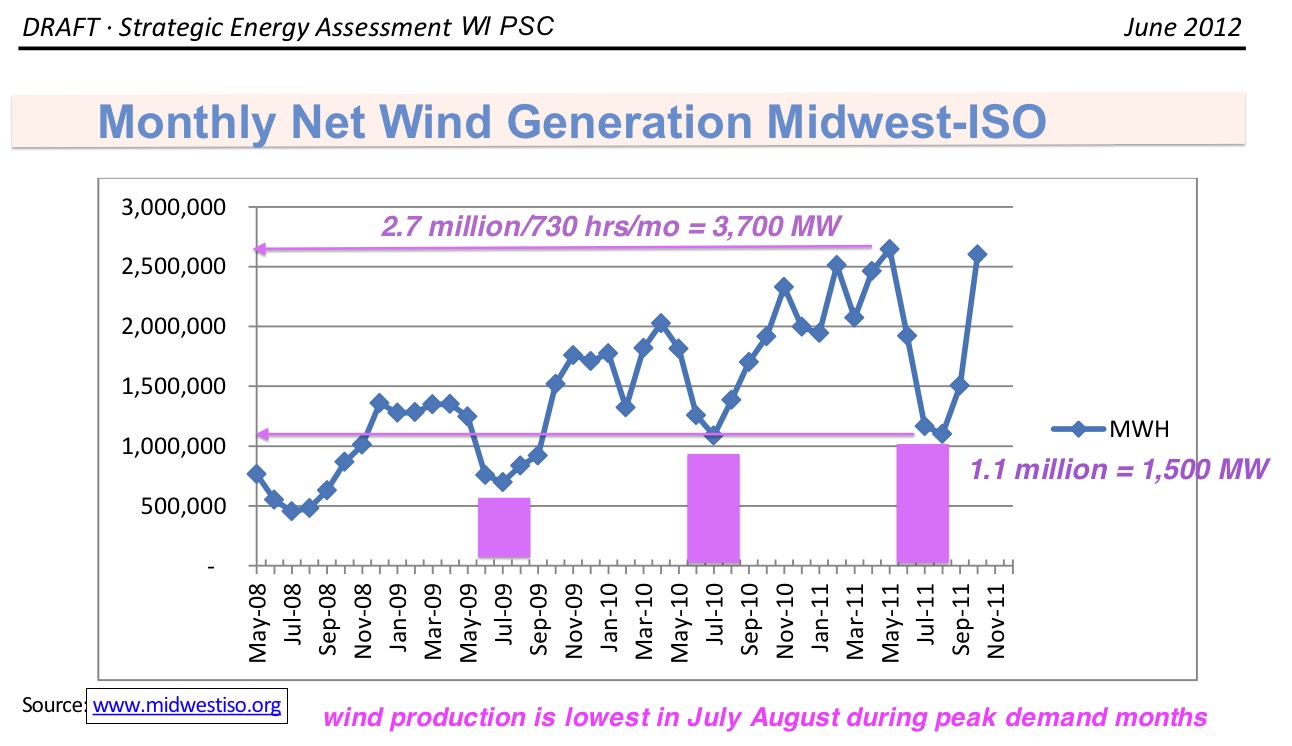 When we turn up our air conditioners in July and August, the wind power being produced in the Great Plains is usually of little help. The opposite is true with on-site solar power; its generation synchronizes with summer peak load reducing transmission needs at exactly the right time– in the heat of the day. Studies by Bill Powers show how elegant and effective this arrangement is for energy planning.
The web provides us access to data, years of studies and even critiques of studies. What I have done in this assessment is combine findings from studies that I thought would be informative to relate. In no way should this replace an integrated process. It supports an argument that we need to let the free market work and let all planning solutions compete. Utilities will not provide such comprehensive planning for us unless we demand it.
Numerous studies over the last several years have consistently shown that investments in energy efficiency are a more cost effective way to reduce carbon emissions than adding renewable generation. In Massachusetts, the aggressive EE program saved 30,000 Gigawatt hours at a cost of about $650,000 per eliminated Megawatt. Distributed generation Solar at 20% efficiency costs about $20 per watt. Wind at 35% efficiency is around $24 per watt. Solar and EE both create a larger number of local, non-specialized jobs than wind and high voltage transmission projects. I applied data from a few studies and determined, that EE/DG solar is a preferable alternative in all respects. The RICL is a private investment proposal so using DG solar would entail management of incentives given to hundred of thousands of homes, businesses and farms instead of 8, large wind farms.
THE ROCK ISLAND CLEAN LINE
A 500 mile long, high voltage direct current transmission line that would connect approximately 4,000 MW of wind generation in the tri-state region of Iowa, Nebraska, and South Dakota with energy demand centers in Illinois and points farther east. The transmission line would connect eight, new 500 MW wind farms to the transmission grid with five located in Iowa and three elsewhere.
The economic study for this proposal estimates that jobs related to the materials and construction of the Rock Island Clean Line and the manufacturing & construction of the the wind farms in IL & Iowa over three years would generate from 29,600-42,500 job years. It would have a combined cost of $8.4 billion ($1.4 transmission and $7 billion in wind farms). I used the 35% nameplate capacity or 1400 MW of added renewable energy as the project's measurable outcome. The transmission line would also carry existing coal, gas, nuclear and renewable power.
ALTERNATIVE INVESTMENT – AGGRESSIVE ENERGY EFFICIENCY COMPONENT
Job creation associated with Aggressive Energy Efficiency Vermont & Massachusetts studies range from 41-43 job years per million spent. These jobs are more localized, less specialized and distributed across communities of all sizes and types. Spending $1.5 billion from our budget would offset 2400 MW of generation and result in 65,500 job years. The Midwest ISO base-load was 74% coal generation in 2011 but Iowa, MN and SD are closer to 60% fossil fuels. 60% of 2400 MW means 1440 MW of coal generation not being required.
ALTERNATIVE INVESTMENT — DISTRIBUTED GENERATION SOLAR COMPONENT
This gives us $6.9 billion to spend on solar which works out to about 300 MW net capacity at $4/watt installed at 20%* efficiency. This is 300 MW improvement in environmental benefits spread across many users plus greater grid stability/reliability. According to a 2010 study by the University of California- Berkeley, 300 MW of installed solar power would create 7500 job years or about 4,100 located in Illinois and Iowa applying the Loomis study max rate of 55%. This is a total of 69,000 job years created for both components.
==========
SUMMARY
Using available studies, the alternative of combining Aggressive Energy Efficiency with 300 MW (net) Solar Distributed generation would seem to produce around 27,000 more job years, with significantly greater reductions in carbon emissions. The alternative budgets about 350,000 homes, farms and businesses with 4kW solar installations worth $6.9 billion for which private investors would be able to arrange considerable returns. The alternative would have similar tax revenue but no negative transmission impacts such as loss of property value. This comparison does not include potential revenue from the solar arrays or lowered home, business and farm costs created by the accelerated EE funding. A glaring omission in this analysis is Demand Side Management which I did not include because I could find not find job creation data.
*My 8kW solar array in SW Wisconsin north of the site location generates at 18% efficiency. I have used the common standard of 20%.